VERYGREEN can offer high-quality Clear PVC Couplers to meet your different needs.
Clear PVC coupler is a common kind of clear PVC pipe fittings, which is easy to disassemble which are generally used to connect pipes with small diameters. A clear PVC coupler is used to extend the length of the clear transparent PVC pipe tube so that the pipe can continue forward, that is, when the length of the pipe that needs to be laid exceeds the length of a single pipe, it is used to connect two pipe fittings.
The use of glue bonding, convenient and fast construction in clear PVC coupler.

The bonding area of the clear PVC coupler is also transparent and visible, avoiding blind spots on vision.

The bonding pressure of a clear PVC coupler is enough, which does not affect the normal use and will not lead to the pressure drop of the whole pipeline system.
Difference between a Clear PVC Coupler and a Clear PVC Union
Both their role is to connect PVC pipes. However, the clear PVC coupler is used outside the tube and the clear PVC union is used inside the tube. The shapes of a clear PVC coupler and a clear PVC union are also different. Clear PVC union can be separated easily and joined in building contemporary structures.
Dimension of Clear PVC Coupler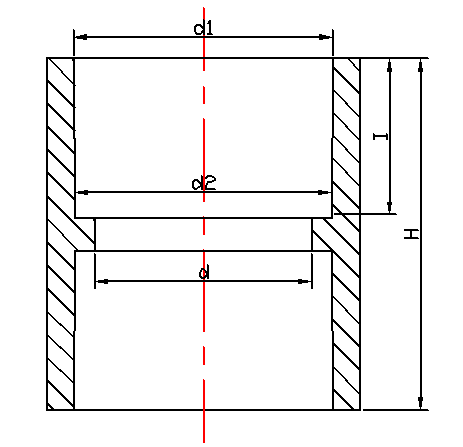 Parameter of Clear PVC Coupler
ASTM
| | | | | | |
| --- | --- | --- | --- | --- | --- |
| SIZE | d/mm | d1/mm | d2/mm | I/mm | H/mm |
| 1/2" | 16.0 | 21.54 | 21.23 | 24.0 | 52.0 |
| 3/4" | 22.0 | 26.87 | 26.57 | 27.0 | 58.0 |
| 1" | 30.0 | 33.65 | 33.27 | 30.0 | 64.0 |
| 1 1/4" | 38.0 | 42.42 | 42.04 | 34.0 | 72.0 |
| 1 1/2" | 44.0 | 48.56 | 48.11 | 37.0 | 78.0 |
| 2" | 54.0 | 60.63 | 60.17 | 41.0 | 86.0 |
| 2 1/2" | 67.0 | 73.38 | 72.85 | 46.5 | 98.0 |
| 3" | 82.0 | 89.31 | 88.70 | 50.0 | 107.0 |
| 4" | 106.0 | 114.76 | 114.10 | 60.0 | 127.0 |
| 5" | 133.0 | 141.81 | 141.00 | 77.0 | 162.0 |
| 6" | 158.0 | 168.83 | 168.00 | 79.0 | 168.0 |
DIN
| | | | | | |
| --- | --- | --- | --- | --- | --- |
| SIZE | d/mm | d1/mm | d2/mm | I/mm | H/mm |
| DN15 | 16 | 20.30 | 20.10 | 16.0 | 36.0 |
| DN20 | 21 | 25.30 | 25.10 | 20.0 | 44.0 |
| DN25 | 28 | 32.30 | 32.10 | 24.0 | 52.0 |
| DN32 | 36 | 40.30 | 40.10 | 28.0 | 60.0 |
| DN40 | 46 | 50.30 | 50.10 | 32.0 | 68.0 |
| DN50 | 57 | 63.30 | 63.10 | 38.0 | 80.0 |
| DN65 | 70 | 75.30 | 75.10 | 44.0 | 92.0 |
| DN80 | 86.1 | 90.30 | 90.10 | 51.0 | 107.0 |
| DN100 | 106.1 | 110.40 | 110.10 | 61.0 | 128.0 |
| DN125 | 133 | 140.50 | 140.20 | 77.0 | 162.0 |
| DN150 | 154 | 160.50 | 160.20 | 86.0 | 180.0 |