VERYGREEN can offer high-quality Clear PVC Tees to meet your different needs.
The translucent PVC pipe tee connection method of transparent pipe fittings means a pipe joint with three openings. This kind of transparent PVC pipe fittings is widely used in our lives. Generally speaking, the special quick connector will have a larger outer diameter than the original pipe, so the pipe must be cut off a short length so that it can be easily inserted in. As long as the two ends are tightened, the water does not leak.
The use of glue bonding, convenient and fast construction in clear pvc tee.

The bonding area of translucent pvc pipe tee is also transparent and visible, avoiding blind spots on vision.

The bonding pressure of clear pvc tee is enough, which does not affect the normal use and will not lead to the pressure drop of the whole pipeline system.
Translucent Clear PVC Pipe Tee Features
Transparency: One of the primary features of a clear PVC tee is its transparency, which allows for easy visual inspection of the flow of liquid or gas through the pipes. This makes it a popular choice for a variety of applications, including aquariums, water treatment plants, and other applications where visibility is important.
Corrosion-resistant: Translucent Clear PVC tees are highly resistant to corrosion and chemical damage, which makes them suitable for use in harsh environments where other materials may corrode or break down.
Durable: PVC material of metric clear pvc pipe is known for its durability and strength, and clear translucent PVC pipe tees are no exception. They can withstand high pressure and temperature, making them suitable for a variety of applications.
Easy to install: translucent clear PVC pipe tees are easy to install, and they can be connected to pipes using standard PVC solvent cement.
Cost-effective: Clear translucent PVC pipe tees are relatively inexpensive compared to other types of plumbing fittings, which makes them a popular choice for many applications.
Versatile: Clear PVC pipe tees come in a variety of sizes and configurations, which makes them suitable for a wide range of plumbing applications. They can be used in residential, commercial, and industrial settings.
Better Connection with a Verygreen 2 Clear PVC Tee
Verygreen 2 clear PVC tee is transparent which can monitor the internal conditions of the from the outside at any time. Meeting U.S. regulations, German regulations, Verygreen clear pvc pipe manufacturer offers 2 Clear PVC Tee which is made from thick and durable materials with more anti-cracking and compressible in connection.
Dimension of Translucent Pipe PVC Tees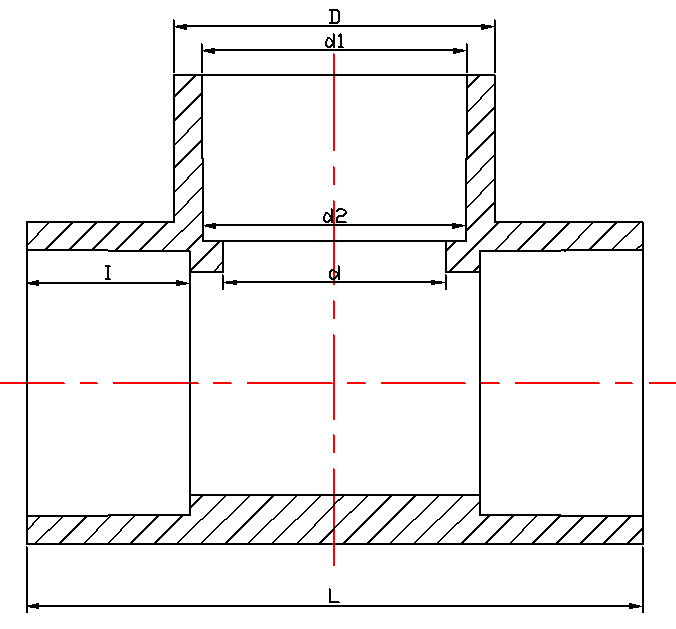 Parameter of Clear PVC Tees
ASTM
| | | | | | |
| --- | --- | --- | --- | --- | --- |
| SIZE | d/mm | d1/mm | d2/mm | I | L/mm |
| 1/2" | 16.0 | 21.54 | 21.23 | 24.0 | 74.0 |
| 3/4" | 22.0 | 26.87 | 26.57 | 27.0 | 84.0 |
| 1" | 30.0 | 33.65 | 33.27 | 30.0 | 96.0 |
| 1 1/4" | 38.0 | 42.42 | 42.04 | 34.0 | 114.0 |
| 1 1/2" | 44.0 | 48.56 | 48.11 | 37.0 | 126.0 |
| 2" | 54.0 | 60.63 | 60.17 | 41.0 | 146.0 |
| 2 1/2" | 67.0 | 73.38 | 72.85 | 46.5 | 171.0 |
| 3" | 82.0 | 89.31 | 88.70 | 50.0 | 194.0 |
| 4" | 106.0 | 114.76 | 114.10 | 60.0 | 238.0 |
| 5" | 133.0 | 141.81 | 141.00 | 77.0 | 307.0 |
| 6" | 158.0 | 168.83 | 168.00 | 79.0 | 336.0 |
DIN
| | | | | | | |
| --- | --- | --- | --- | --- | --- | --- |
| SIZE | D/mm | d/mm | d1/mm | d2/mm | I/mm | L/mm |
| DN15 | 27.0 | 17 | 20.30 | 20.10 | 16.0 | 56.0 |
| DN20 | 33.0 | 23 | 25.30 | 25.10 | 19.0 | 66.0 |
| DN25 | 41.0 | 29 | 32.30 | 32.10 | 22.0 | 80.0 |
| DN32 | 50.0 | 37 | 40.30 | 40.10 | 26.0 | 96.0 |
| DN40 | 61.0 | 47 | 50.30 | 50.10 | 32.0 | 118.0 |
| DN50 | 75.0 | 60 | 63.30 | 63.10 | 38.0 | 143.0 |
| DN65 | 92.0 | 72.1 | 75.30 | 75.10 | 44.0 | 171.0 |
| DN80 | 110.6 | 87.1 | 90.30 | 90.10 | 51.0 | 197.0 |
| DN100 | 127.0 | 106.1 | 110.40 | 110.10 | 61.0 | 238.0 |
| DN125 | 162.0 | 133 | 140.50 | 140.20 | 77.0 | 307.0 |
| DN150 | 186.0 | 154 | 160.50 | 160.20 | 86.0 | 338.0 |