VERYGREEN can offer high-quality Clear PVC Tees to meet your different needs.
The clear PVC tee connection method of transparent pvc pipe fittings means a pipe joint with three openings. This kind of transparent PVC pipe fittings is widely used in our lives. Generally speaking, the special quick connector will have a larger outer diameter than the original pipe, so the pipe must be cut off a short length so that it can be easily inserted in. As long as the two ends are tightened, the water does not leak.
The use of glue bonding, convenient and fast construction in clear pvc tee.

The bonding area of clear pvc tee is also transparent and visible, avoiding blind spots on vision.

The bonding pressure of clear pvc tee is enough, which does not affect the normal use and will not lead to the pressure drop of the whole pipeline system.
Better Connection with a Verygreen 2 Clear PVC Tee
Verygreen 2 clear PVC tee is transparent which can monitor the internal conditions of the from the outside at any time. Meeting U.S. regulations, German regulations, Verygreen 2 Clear PVC Tee is made from thick and durable materials which are more anti-cracking and compressible in connection.
Dimension of Clear PVC Tees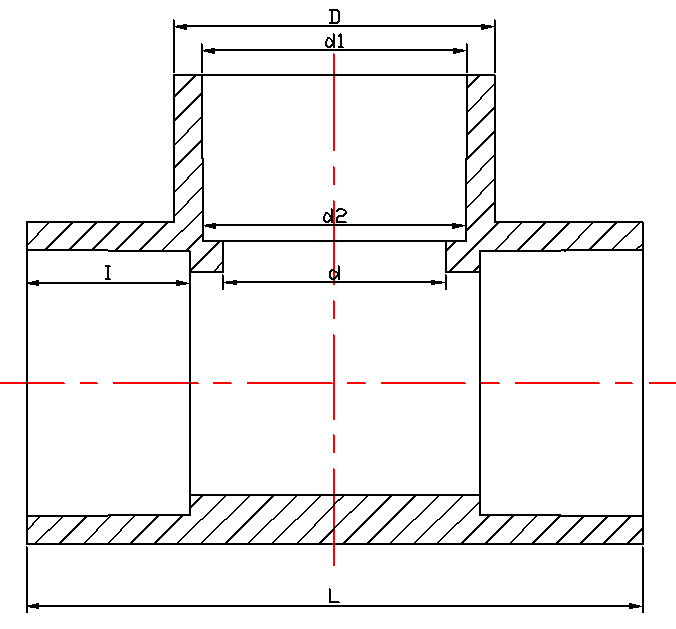 Parameter of Clear PVC Tees
ASTM
| | | | | | |
| --- | --- | --- | --- | --- | --- |
| SIZE | d/mm | d1/mm | d2/mm | I | L/mm |
| 1/2" | 16.0 | 21.54 | 21.23 | 24.0 | 74.0 |
| 3/4" | 22.0 | 26.87 | 26.57 | 27.0 | 84.0 |
| 1" | 30.0 | 33.65 | 33.27 | 30.0 | 96.0 |
| 1 1/4" | 38.0 | 42.42 | 42.04 | 34.0 | 114.0 |
| 1 1/2" | 44.0 | 48.56 | 48.11 | 37.0 | 126.0 |
| 2" | 54.0 | 60.63 | 60.17 | 41.0 | 146.0 |
| 2 1/2" | 67.0 | 73.38 | 72.85 | 46.5 | 171.0 |
| 3" | 82.0 | 89.31 | 88.70 | 50.0 | 194.0 |
| 4" | 106.0 | 114.76 | 114.10 | 60.0 | 238.0 |
| 5" | 133.0 | 141.81 | 141.00 | 77.0 | 307.0 |
| 6" | 158.0 | 168.83 | 168.00 | 79.0 | 336.0 |
DIN
| | | | | | | |
| --- | --- | --- | --- | --- | --- | --- |
| SIZE | D/mm | d/mm | d1/mm | d2/mm | I/mm | L/mm |
| DN15 | 27.0 | 17 | 20.30 | 20.10 | 16.0 | 56.0 |
| DN20 | 33.0 | 23 | 25.30 | 25.10 | 19.0 | 66.0 |
| DN25 | 41.0 | 29 | 32.30 | 32.10 | 22.0 | 80.0 |
| DN32 | 50.0 | 37 | 40.30 | 40.10 | 26.0 | 96.0 |
| DN40 | 61.0 | 47 | 50.30 | 50.10 | 32.0 | 118.0 |
| DN50 | 75.0 | 60 | 63.30 | 63.10 | 38.0 | 143.0 |
| DN65 | 92.0 | 72.1 | 75.30 | 75.10 | 44.0 | 171.0 |
| DN80 | 110.6 | 87.1 | 90.30 | 90.10 | 51.0 | 197.0 |
| DN100 | 127.0 | 106.1 | 110.40 | 110.10 | 61.0 | 238.0 |
| DN125 | 162.0 | 133 | 140.50 | 140.20 | 77.0 | 307.0 |
| DN150 | 186.0 | 154 | 160.50 | 160.20 | 86.0 | 338.0 |