VERYGREEN can offer high-quality Clear PVC Elbows to meet your different needs.
Clear PVC elbows are widely used in PVC irrigation systems, usually at a 90-degree angle, which has the effect of changing the direction of the pipeline. Sometimes clear PVC elbows can also be used in combination of clear plastic pipe fittings to achieve a greater effect of changing the direction of the pipeline.
The use of glue bonding, convenient and fast construction in clear pvc elbow.




The bonding area of clear pvc elbow is also transparent and visible, avoiding blind spots on vision.




The bonding pressure of clear pvc elbowis enough, which does not affect the normal use and will not lead to the pressure drop of the whole pipeline system.
What is The Use of a Verygreen Clear PVC Elbow?
The main application areas of clear PVC unconventional elbows are bridges, tunnels, etc. The bridge itself has a certain slope, and it is necessary to use unconventional degree elbows to maintain the beauty of the drainage network outside the bridge. Conventional clear PVC elbows use molds for one-time casting and molding. The cost is relatively low. Since the hot bending and welding are mainly manual, the price is relatively high.
Dimension of Clear PVC Elbow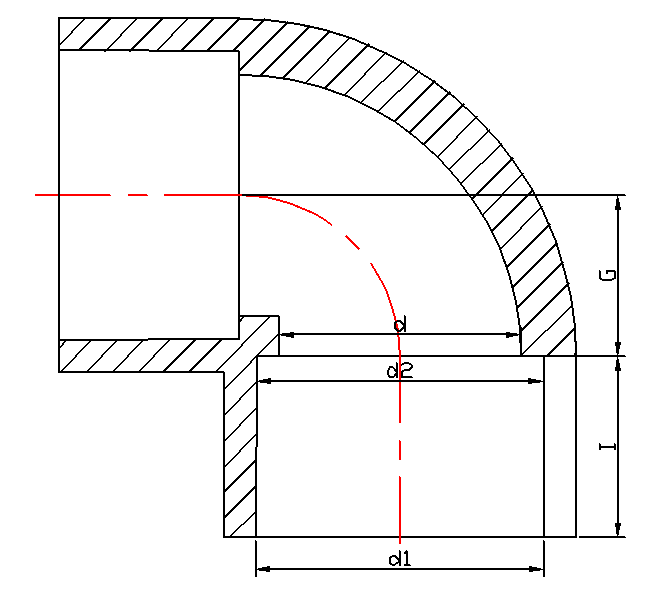 Parameter of Clear PVC Elbow
ASTM
| | | | | | |
| --- | --- | --- | --- | --- | --- |
| SIZE | d/mm | d1/mm | d2/mm | I/mm | G/mm |
| 1/2" | 16.0 | 21.54 | 21.23 | 24.0 | 13.0 |
| 3/4" | 22.0 | 26.87 | 26.57 | 27.0 | 15.0 |
| 1" | 30.0 | 33.65 | 33.27 | 30.0 | 18.0 |
| 1 1/4" | 38.0 | 42.42 | 42.04 | 34.0 | 23.0 |
| 1 1/2" | 44.0 | 48.56 | 48.11 | 37.0 | 26.0 |
| 2" | 54.0 | 60.63 | 60.17 | 41.0 | 32.0 |
| 2 1/2" | 67.0 | 73.38 | 72.85 | 46.5 | 39.0 |
| 3" | 82.0 | 89.31 | 88.70 | 50.0 | 47.0 |
| 4" | 106.0 | 114.76 | 114.10 | 60.0 | 59.0 |
| 5" | 133.0 | 141.81 | 141.00 | 77.0 | 76.5 |
| 6" | 158.0 | 168.83 | 168.00 | 79.0 | 89.0 |
DIN
| | | | | | |
| --- | --- | --- | --- | --- | --- |
| SIZE | D/mm | d/mm | d1/mm | d2/mm | I/mm |
| DN15 | 27.0 | 17 | 20.30 | 20.10 | 16.0 |
| DN20 | 33.0 | 23 | 25.30 | 25.10 | 20.0 |
| DN25 | 41.0 | 29 | 32.30 | 32.10 | 24.0 |
| DN32 | 50.0 | 37 | 40.30 | 40.10 | 28.0 |
| DN40 | 61.0 | 47 | 50.30 | 50.10 | 32.0 |
| DN50 | 75.0 | 60 | 63.30 | 63.10 | 38.0 |
| DN65 | 92.0 | 72 | 75.30 | 75.10 | 44.0 |
| DN80 | 110.6 | 87.1 | 90.30 | 90.10 | 51.0 |
| DN100 | 127.0 | 106.1 | 110.40 | 110.10 | 61.0 |
| DN125 | 162.0 | 133 | 140.50 | 140.20 | 77.0 |
| DN150 | 186.0 | 154 | 160.50 | 160.20 | 86.0 |